Lenkara Jewellery Design & Management Institute - Chungath Jewellery

Enter the world of jewelry designing!
In collaboration with South India's leading Jewellery group Chungath Jewellery, Lenkara Jewelry Design and Management Institute offers intensive short term job oriented professional certificate courses. These courses will give creative, technical and practical skills needed for rewarding career in the Jewellery Industry.
Lenkara Jewelry Design and Management Institute, aims to impart a high level of education and training to students, expanding their knowledge to reach domestic as well as international markets. The course develops cultural business and professional awareness as well as communications skills.
Become a Design Expert!
Previously, the only way to become a jewelry designer was to train for a long time under an experienced designer.
The Lenkara Jewelry Design & Management Institute (Lenkara JDM Institute), a product of the social commitment and foresight of the Customs, which has a strong tradition of over a century in the jewelry market, was established with the aim of raising the standard of professionalism in the sector. Conceived under the guidance of experts in the field of education and jewelry design, the institute has started short courses offering training not only in jewelry design and its advanced technologies but also in the field of jewelry market management.
Jewelry designing is a creative field that involves the design and creation of jewelry using various materials, such as metals, gems, beads, and other materials. At Lenkara Jewelry Design and Management Institute, students will learn the principles of design and how to use various techniques to create different types of jewelry, such as necklaces, bracelets, earrings, and rings. They will learn about the various materials used in jewelry making, such as gold, silver, gems, beads, and other materials.
They will also learn how to use the tools necessary to create jewelry, such as pliers, wire cutters, and soldering equipment. Students will gain an understanding of the jewelry industry, including market trends, pricing, and distribution channels. They will also learn about the history of jewelry and its cultural significance. Computer-Aided Design (CAD) jewelry designing courses now include training on using CAD software to create 3D models of jewelry designs, which can then be used to create physical prototypes.
Why choose jewellery designer career?
Choosing a career as a jewellery designer can be a fulfilling and rewarding path for those who have a passion for creativity and design. Here are some reasons why someone may choose to pursue a career as a jewellery designer
Creativity: Jewellery design is an artistic and creative field that allows designers to express themselves through their designs. It involves coming up with unique and
innovative designs that stand out in the market.
Versatility: Jewellery designers have the opportunity to work with a wide range of materials such as precious metals, gems, and stones. This versatility allows designers
to explore different techniques and create unique pieces that cater to different tastes and styles.
Job satisfaction: Jewellery designers get the satisfaction of seeing their creations come to life and being worn by people. They get to see the joy and happiness that their
designs bring to their clients.
Entrepreneurship: Jewellery designers have the opportunity to start their own businesses and sell their designs directly to clients. This allows them to be their own
boss and create a business that aligns with their personal values and goals.
Job security: The demand for jewellery designers is always present, and there is a need for their services in both the fashion and luxury industries. This makes it a stable and
secure career choice.
Overall, a career in jewellery design can be a great choice for those who are passionate about creativity, design, and entrepreneurship.
Best Career oportunity of a jewellery designer!
As a jewellery designer, there are various career opportunities that you can explore. Some of the best ones include:
Freelance Designer: You can work as a freelance jewellery designer, creating designs for clients on a project basis. This will give you the flexibility to work on your own terms
and showcase your creativity.
In-house Designer: You can work as an in-house jewellery designer for a jewellery manufacturer or retailer. This will give you the opportunity to work in a team and be
part of the entire jewellery design process, from concept to production.
Design Director: If you have extensive experience in the field, you can become a design director for a jewellery company. This role involves overseeing the design team and
ensuring that the company's designs are innovative, on-trend and commercially viable.
Entrepreneur: You can start your own jewellery design business, creating and selling your own designs. This will give you the freedom to explore your creativity and turn
your passion into a profitable career.
Educator: If you have a passion for teaching, you can become a jewellery design instructor at a design school or university. This will allow you to share your knowledge
and expertise with aspiring designers and help them hone their skills.
Ultimately, the best career opportunity for a jewellery designer depends on your personal interests, goals and skills.
Short Term Course
There are also short-term courses (6 months) in Jewelry Design, Retail and Management approved by the Central Government at affordable fees to the general public. There are courses suitable for housewives and young ladies who are interested in marketing their designs through social media. A suitable training schedule is also available for them.
What is jewelery hand sketch desgining course?
A jewelry hand sketch designing course is a training program that teaches students how to create sketches of jewelry designs by hand. The course typically covers the fundamentals of sketching, such as proportions, shading, and detailing. It also teaches students how to use various materials such as pencils, markers, and paper to create their sketches.
Jewelry sketching is an essential skill for jewelry designers as it allows them to communicate their ideas and concepts to clients and manufacturers. Through the course, students can learn to create sketches of different types of jewelry such as rings, necklaces, earrings, bracelets, and brooches. Some courses may also cover more advanced techniques such as rendering and color theory.
Overall, a jewelry hand sketch designing course can provide students with the necessary skills to bring their jewelry design ideas to life and start a career in the field of jewelry design.
Whats is jewellery CAD Designing course?
Jewelry CAD (Computer-Aided Design) designing is the process of creating three-dimensional (3D) digital models of jewelry using specialized computer software. This technology allows jewelry designers to create and visualize their designs in a more efficient and accurate way compared to traditional hand sketching or modeling.
With CAD software, designers can create complex designs with intricate details, which can be difficult to achieve with traditional methods. Additionally, the software allows designers to make changes and adjustments to their designs quickly and easily, without having to start from scratch.
Once the 3D model is created, it can be used to create a physical prototype of the jewelry using a 3D printer or a CNC (Computer Numerical Control) machine. The digital model can also be used to create photorealistic renderings and animations to showcase the design to clients.
Overall, jewelry CAD designing has revolutionized the jewelry design industry by streamlining the design process, improving accuracy, and reducing the time and cost associated with creating a physical prototype. Two softwares mainly used for CAD Course are Rhino & Matrix GOLD.
Why RHINO software?
Rhino is a powerful 3D modeling software that is widely used in a variety of industries, such as architecture, product design, and jewelry design. If you are a Rhino designer, there are several career opportunities available to you, depending on your interests and skills. Here are some of the best career opportunities for Rhino designers:
Industrial Designer: Industrial designers use Rhino to design and develop products such as appliances, tools, and furniture. They work with manufacturers to ensure that their designs are manufacturable and meet the needs of consumers.
Architect: Architects use Rhino to create 3D models of buildings and structures. They use these models to visualize designs, communicate with clients, and collaborate with engineers and contractors.
Jewelry Designer: Rhino is also used in the jewelry industry to create 3D models of jewelry designs. Jewelry designers use Rhino to create intricate designs that can be manufactured using 3D printing or traditional jewelry-making techniques.
Automotive Designer: Automotive designers use Rhino to design cars, trucks, and other vehicles. They use the software to create 3D models of the exterior and interior of the vehicle, and to visualize how different design elements will look and function.
Game Designer: Game designers use Rhino to create 3D models of characters, environments, and objects for video games. They use the software to create detailed models that can be used in game engines such as Unity or Unreal Engine.
Overall, there are many career opportunities available to Rhino designers, and the software is widely used in a variety of industries. Whether you are interested in product design, architecture, jewelry design, automotive design, or game design, Rhino can be a valuable tool in your career. ????
Why Matrix Gold software?
MatrixGold is a 3D CAD software that is primarily used for jewelry design and manufacturing. It offers several benefits, including:
Improved design capabilities: MatrixGold offers advanced design tools that enable designers to create complex and intricate jewelry designs quickly and easily. The software's intuitive interface and powerful tools make it easy to create 3D models of jewelry pieces, including rings, bracelets, necklaces, and more.
Time-saving features: MatrixGold automates many of the design and manufacturing processes, reducing the time and effort required to create and produce high-quality jewelry pieces. For example, the software allows designers to create custom designs that can be 3D printed or sent directly to a CNC machine for production.
Customization options: MatrixGold allows designers to customize jewelry pieces to meet the specific needs and preferences of their clients. The software provides a wide range of tools and options for adjusting the size, shape, and color of jewelry pieces, as well as adding intricate details and embellishments.
Increased accuracy: MatrixGold's precision tools and measurements ensure that jewelry pieces are created with the highest level of accuracy and consistency. This results in high-quality finished products that meet or exceed customer expectations.
Integration with other software and tools: MatrixGold can be integrated with other software and tools, such as 3D printers and CNC machines, to streamline the design and manufacturing process. This makes it easier for designers to bring their ideas to life and produce high-quality jewelry pieces efficiently and effectively.
Overall, MatrixGold offers many benefits to jewelry designers and manufacturers, including improved design capabilities, time-saving features, customization options, increased accuracy, and integration with other software and tools.
Get a 'shiny' Job
Lenkara JDM Institute follows a learning approach that provides training in drafting, design, theory, free drawing, how to use multiple media, and CAD. Lenkara JDM Institute also guarantees a learning environment that enables young people to pursue any career in the jewelry industry.
The trainers at this institution are those with many years of experience in the field of jewelry. Therefore, the best training from this field can be ensured in 'Lenkara'.
Experienced designers design jewelry in captivating designs on jewelry show windows. Demand for this specialty has grown significantly as a result of recent corporate scandals. Therefore, students who have studied jewelry designing can definitely get high paying jobs. The toll group itself is ready to provide better paying jobs to many who successfully complete the course. There are plenty of job opportunities in other jewelry groups as well.
Those who complete these courses will find high-paying employment opportunities not only in Kerala and other states but also in the international jewelry and allied industries. The courses at Lenkara JDM Institute are sure to be a turning point for those who want to choose a high quality career field.
For Admission Call : 7994166032 | Follow us on Facebook | Follow us on Instagram
---
As a part of this programme,

you will also learn

Basic principles of jewelry design & composition
Role of a jewelry designer
Type of settings and representation techniques
Designing collections and more...

Courses Offered

---

Jewelry Handsketch
Jewelry CAD

Eligibility

---

10th or Plus Two & Above
No Age Bar

Additional Facilities

Guidance of dedicated and highly experienced faculty
Sector specific lab
Employability skill training
Live internship opportunity
Air-conditioned classrooms
Placement Assistance

Batches

---

Regular (Mon to Fri)
Weekend (Sat & Sun)

Duration

---
Download Brochure & Application form here below
---
Industrial Visit to Tony Signature Diamonds, Thrissur in March 2022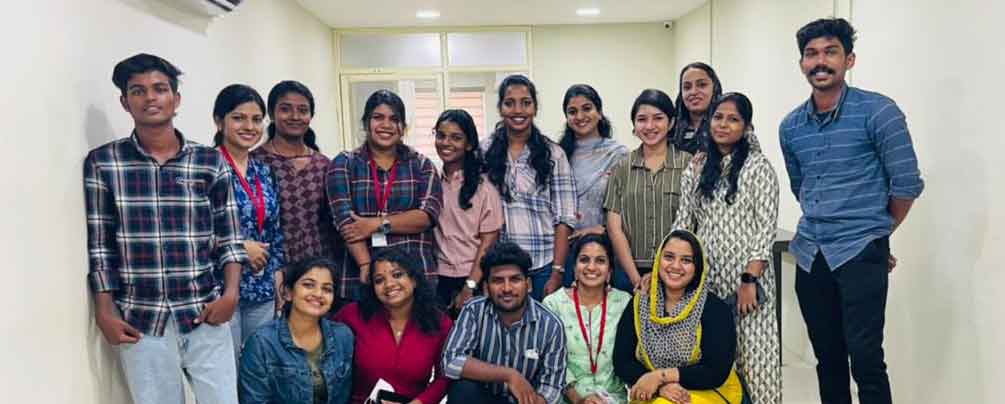 On 19th March 2022, the students of Lenkara Jewelry Design and Management Institute visited diamond jewellery manufacturing unit called Tony Signature Diamonds, Thrissur.
Located in the bustling town of Thrissur, Tony Signature Diamonds is a family name that stands for Trust & Quality. Founded under the creative vision of Akhil Tony, TSD is a venture to create distinctive, beautiful and skillfully handcrafted jewellery, that simply takes your breath away. Backed by our age-old values of trust and purity.
Upon arrival, the students were briefed by the company representative about the company, their products and the production process. The students were also briefed about the safety precaution they need to follow during their visit to the facility. The students we taken to the facility to see the units of CAD Designing, Molding & Casting unit, manufacturing, diamond grading, display setup, etc. and understand the process.
---
Industrial Visit & Recruitment Partner