Traditional Jewelleries
The art of adornment is unique to man. From flowers to shells and bone, and from ivory to silver, gems, and gold, man always had a fascination for adornment. The styles or aesthetics changed based on material and cultural advancements. India being a gem-bearing land was always seen as a treasure trove for travellers, traders, and invaders. With a history of over 5000 years, Indian jewellery has evolved beyond craft into art.
The Indian love of jewellery means a love of beauty and aesthetics. In many antique designs, you can see an artist's aspirations seeking perfection.
A typical Malayali bride is usually adorned brightly and lavishly with bridal jewellery. We present some of the unique and traditional jewellery designs of Kerala.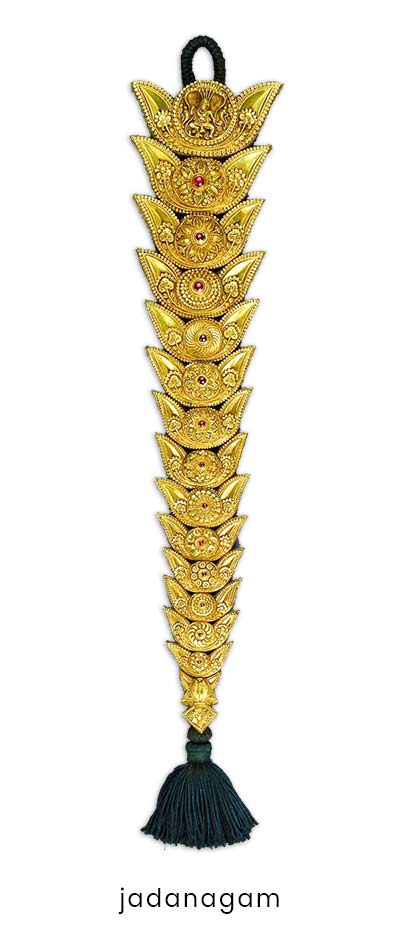 TRADITIONAL SOUTH INDIAN HAIR SERPENT NETTI CHUTTI
It is an adornment for the head. This ornament is basically a piece of jewellery worn partially covering the forehead or parting of the hair. It is very similar to the Sarpech of Rajasthan or Mang Tikka of other northern parts of India. However, the design and style of a Netti (forehead) Chutti are very different from the other two head ornaments. A mix of gold, uncut diamonds, and elongated emerald drops is used to make the Netti Chutti.
JADANAGAM (Hair Serpent)
This traditional South Indian ornament is worn by brides and classical dancers to decorate their hair. Jadanagam is decorated using the kundan technique in which hundreds of rubies, emeralds, amethysts and pieces of rock crystal are inset into malleable gold foil and finished flush with the surface of the ornament.
EAR ORNAMENTS
Jhimkis:Jhimkis: It is a bell-shaped designer earring. This traditional Kerala jewellery is generally worn by the Malayali bride. It is also seen as part of temple jewellery. While one particular design of a jhimki is all about ear studs in palakka (leaf), another type of jhimki is a gold-plated earring that has small dangling bells.
Thoda: Thoda: It is another pattern of earring which is quite popular in the Malabar area.
Jhumkas: Jhumkas: This ornament has been an eternal favourite for the gorgeous look it imparts. Plenty of designs are available in Jhumkas.
Jadau: Jadau: Jadau is simply a way of using Kundan, Polki, and Meenakari ornaments in an engraved setting. Gold foil is used to set Polki stones with Meenakari at the back.
Mukuttis (Nose Rings): The origin of the Mukutti can be traced to Maharashtra, where it is known as Nath/Nathni. This exquisite ornament is made of diamonds set in flower-shaped clusters of pearls. There are different types of nose ornaments. However, one of the most elegant is the Nathni of Maharashtra. Nose ornaments have different names in different parts of India. In north India, it is known as Latkan or Laung while in western India it is known as Nathni.
NECKLACES
Necklaces broadly can be classified into five:
Traditional Necklaces, Antique Necklaces (Mughal, Chettinad, Kundan), Regional Flavours (Bombay, Calcutta, Rajkot, Singapore, Turkey), Stone Flavours (Uncut, Polki, Signity), General Designs.
TRADITIONAL NECKLACES
Temple necklaces are the best examples for traditional necklaces. Temple jewelleries are classical and traditional in appearance. It is characterised by fine handwork, painstakingly crafted by skilled craftsmen and jewellers. There are plenty of designs in temple jewellery necklaces. The more famous ones are:
Palakamala, Pavithrakettu Mala, Randizha Manimala, Pichimottu Mala, Nagapada Thaali, Lashmi Mala, Pathakamala, Karimanimala, Gopi Palakamala, Thali Kootam, Kasu Mala, Mulla Mottu Mala, Manga Mala, Poothali.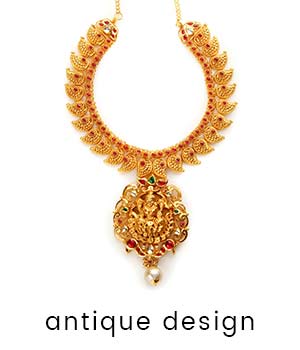 Antique Necklaces
Mughal Necklaces
The Mughal emperors were lovers of precious stones. The Timurids, ancestors of the Mughals, had begun the tradition of engraving titles and names on stones of outstanding quality and, along with diamonds and emeralds, large spinel beads were their favourites. These gems were a symbol of the opulence and dignity of the empire. Emeralds were enormously popular in the Mughal era.
Chettinad Necklaces
Chettinad, the land of culture, is perched in southern part of Tamil Nadu. Like in other traditional art and craft, Chettinad fashion is famous in gold jewellery as well. The popular designs in Chettinad are:
Chetttinad Mango Mala, Poothala, Mullamuttu, Kashu Mala, Kasavu Mala, Bullet Mala, Layer Mala, Naga Designs, Sarvaiswarya Mala, Laxmi Mala, Ganapathi Mala.
Kundan
Kundan necklaces are essentially glass-based ones. It can be precious or semi-precious, depending on the stone used. It is polished to make it look more intricate and is more to do with setting gemstones in gold jewellery.
Regional Flavours
All the regional flavours are machine-cut designs in glossy finish. Some designs are famous for their intricate filigree work while some are innovative and bear intricate craftsmanship. The popular designs are Calcutta, Rajkot, Turkey, Bombay, and Singapore.

Stone Flavours
Uncut Stones: Uncut Stones: The uncut stone (diamond, ruby, and emerald) is one that has not been shaped in any particular form by a professional cutter and has not undergone any polishing. Uncut diamonds are also referred to as rough diamonds (or raw diamonds). It is comparatively cheaper than the finished or cut ones. Uncut stones are widely using in antique jewellery designs.
Polki: Polki: Polki is made of unfinished natural diamonds — those that come in their natural shape and don't need any polishing or finishing.
Signity Cubic Zirconia:Signity Cubic Zirconia: Popularly known as Signity stone, it is an alternative to diamonds and is used as imitation diamond. This stone-like substance is bright white with more sparkle than diamonds. It is widely used in jewellery making.
General Designs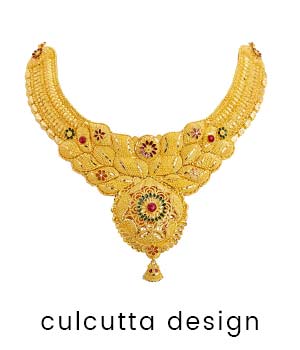 A wide range of designs is available in Kerala necklaces. The famous ones are:
Sumagali Mala, Vairaminni Mala, Thilakka Thali, Manga Mala, Pathakk Mala, Sharapoli, Chandraminni, Kuzhiminni Mala, Poothali Mala, Adukku Kashu, Shank Mala, and Avala Mala.
Religious Ornaments
Rudrakhsa Mala :Rudrakhsa Mala: Rudraksha is a seed traditionally used as prayer beads. The seed is using in the making of jewellery as well.
Rakta Chandan Mala or Red Sandalwood Rosary: This consists of beads of red sandalwood and both sides of each bead are covered with gold.
Tulasi Mala: Tulsi Mala: Tulsi represents Lord Krishna. Many faithful wear necklaces of Tulsi. Again, both sides of each bead are covered with gold.
Navarathnamala: Navarathnamala: Nine kinds of precious gemstones are combined in one necklace.
Vanki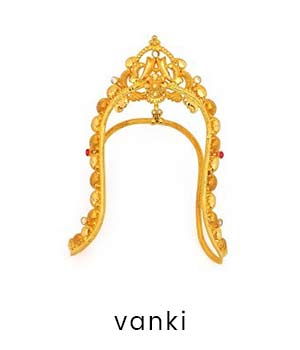 This ornament originated in South India. Vanki, also known as Aaram or armlet, is inlaid with rose-cut diamonds, cabochon rubies, and emeralds. The gold work gives off the impression or effect of a coiled snake on either side in the lower part of the Vanki. In the traditional Vanki design, two parts lead up to the top from which drops a typical lotus-motif pendant.
Palakka Kada: Palakka Kada: Kada, otherwise known as Karas or bracelets, originated from Varanasi. It's a thick bracelet with green, blue, or red stones and is known as Palakka. The Palaka Kads is popular in the Malabar region. These bangles are worn on auspicious occasions.
Dasavatharam: Dasavatharam: The bangle depicts all ten incarnations of Lord Vishnu. Hence, the name Dasavatharam.
Ashtalakshmi: Ashtalakshmi: In this bangle, the shape of eight represents Goddess Lakshmi.
Nagapadam: Nagapadam: Traditional and trendy, and bearing a combination of Green Nagapadam on a gold-plated base, Nagapadam Bangles are best paired with ethnic wear.
Jadau Kada: Jadau Kada: In Jadau Kada, emeralds, rubies, and pearls are embedded in pure gold. It is a testimony to a heritage of great precision and artistry.
Pancha/Mylanci L (Hand Ornament)
This ornament has its origins in the Mughal times. It comprises finger rings that are attached to an armlet. The connecting area usually contains designs of the lotus, the sun, or the moon. It is also known as Panchagala (jewel for the five fingers) or Hathphool. In Bengal, it is known as 'Ratnachur'. It consists of a Kundan-set flower-encrusted bracelet with a stone-set chain leading to another flower on the back of the palm and a similar chain connecting it to the five rings on the five fingers, with each ring bearing a different flower motif.
Mothiram ( Finger Rings)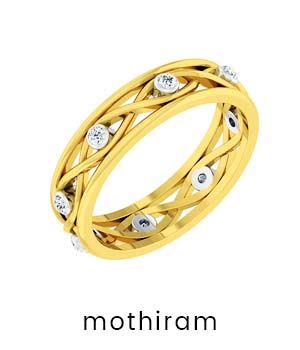 Mothiram or finger ring has a crucial role in weddings. It is part and parcel of the culture and tradition of any society. Wearing wedding rings have a priceless sentimental value. The wedding ring shows the world that you value your spouse. There is a wide variety of Mothirams:
Payyannur Pavithra Kettu:Payyannur Pavithra Kettu: It is a specially crafted gold ring, shaped like a knot and regarded as sacred. The sole right to make this holy ring was vested with a particular family at Payyannur in Kannur district. This ring is believed to bring luck to anyone who wears it with devotion.
Vanki Ring: Vanki Ring: This ornament has also traditional importance. Vanki or Kanganam is commonly used to ward off bad luck and is unique because of its inverted V-shaped design.
Anaval Mothiram : Anaval Mothiram: Two or three elephant hair wires are used to make these rings. The elephant hair is fixed on the ring or in between the gold ring.
Rosary Ring.Rosary Ring. It is a unique invention, with ten small beads allowing us to roll the ring around in our hand as we pray. The Rosary Ring is believed to have originated in Ireland.
Vatche Rings: Vatche Rings: These rings are popular for engagements.
Oddiyanam or Kamarband (hip chain or waist belt)
These are handcrafted exclusive gold plated hip belts. The ornament is carved intricately with Goddess Lakshmi's impressions. This waist ornament, native to South India, is encrusted with rose-cut diamonds, emeralds, and cabochon rubies. Peacocks, flowers, buds, and leaves intermingle in riotous profusion in the design.
This hip ornament or waist belt is studded with precious ruby and emerald stones. The pattern bears exclusively designed floral and peacock designs. In Bengal, it is known as Chadra Haar and its designs have a unique aesthetic in eastern India. It consists of a series of chains made up of minute gold balls held in criss-crossing gold wire, leading down to an elaborate filigree pendant with a floral motif.
KOLUSU (foot ornament)
'Kolusu' or anklet is worn by girls and women at weddings and on festive occasions. A kolusu makes a pleasant sound when the girl or the bride moves around. Traditionally, it is made of silver but is also available in gold. The name of this ornament varies in different India states. It is also known as payal, gajra, sankla, chanjar, zanjiri, and kaappu.